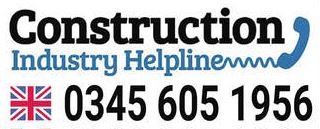 The Construction Industry Helpline is managed and funded by the Lighthouse Construction Industry Charity.
You can call the Helpline 24/7 in confidence on 0345 605 1956. It is a charitable service funded by the industry, for the industry and provides;
Emergency financial aid to construction families in crisis
Advice on occupational health and mental wellbeing
Support on legal, tax and debt management matters
The Construction Industry App provides information, advice and guidance about how people can relieve the long term effects of stress, anxiety or depression as well as providing access to other areas of support such as anger management, drug and alcohol dependency, debt management, legal advice, and emergency financial aid.
Key support areas include:
Mental Wellbeing; covering anxiety,depression, anger, suicidal thoughts, sleep and building resilience
Physical Wellbeing; covering aches and pains, nutrition, weight management cancer, alcohol and drug addiction
Financial Wellbeing; covering budgeting, debt management, tax and legal advice, retirement planning and emergency financial aid
Each section of the app offers learnings about a variety of conditions or issues, self- assessment tools, coping strategies and referral pathways to access expert advice and support.The app is not only free and simple to use, it accesses a major researched library of resources on a vast array of topics and brings them all together in one application. The 'get help' function is particularly useful as the built in geo-locator signposts users to support from both national help centres and local support services, specific to the subject being investigated. Click here for further information.